ServiceStack's C# Redis Client is a simple, high-performance and feature-rich C# Client for Redis with native support and high-level abstractions for serializing POCOs and Complex Types supporting both native Sync and Async APIs.
There are a number of different APIs available with the RedisClient implementing the following interfaces:
Caching Provider - If you are using Redis solely as a cache, you should bind to the ServiceStack's common interface as there already are In-Memory an Memcached implementations available in ServiceStack, allowing you to easily switch providers
IRedisNativeClient / Async - For those wanting a low-level raw byte access (where you can control your own serialization/deserialization) that map 1:1 with Redis operations of the same name.
For most cases if you require access to Redis specific functionality you would want to bind to the interface below:
IRedisClient / Async - Provides a friendlier, more descriptive API that lets you store values as strings (UTF8 encoding).
Redis generic client APIs - created with redis.As<T>() - returns a 'strongly-typed client' that provides a typed-interface for all redis value operations that works against any C#/.NET POCO type.
The interfaces work cleanly with any IOC and allows your app logic to bind to implementation-free interfaces which can easily be mocked and substituted.
An overview of class hierarchy for the C# Redis clients looks like:
RedisTypedClient (POCO) > RedisClient (string) > RedisNativeClient (raw byte[])

With each client providing different layers of abstraction:
The RedisNativeClient exposes raw byte[] apis and does no marshalling and passes all values directly to redis.
The RedisClient assumes string values and simply converts strings to UTF8 bytes before sending to Redis
The RedisTypedClient provides a generic interface allowing you to add POCO values. POCOs are serialized using ServiceStack.Text which is then converted to UTF8 bytes and sent to Redis.
API Overview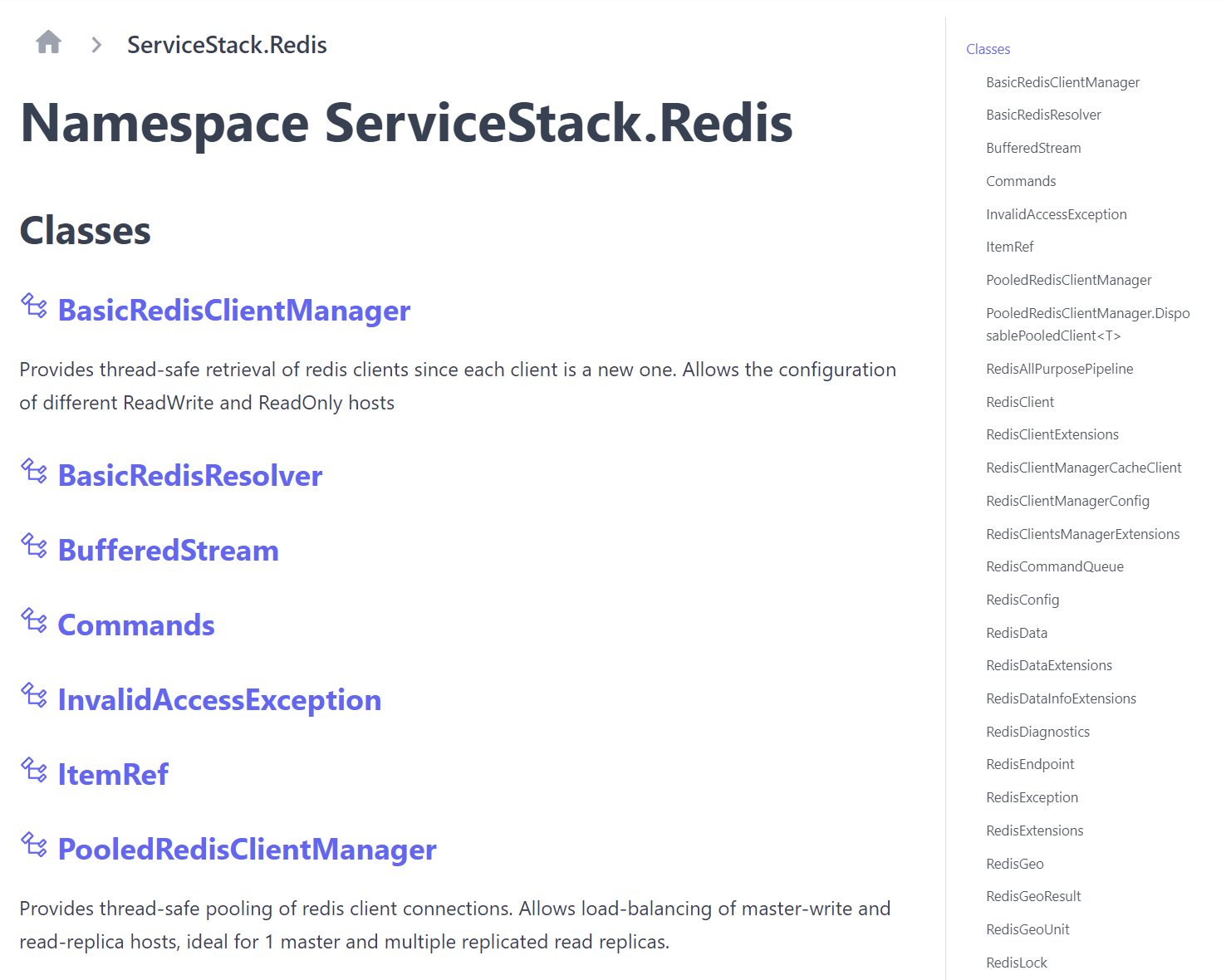 Birds-eye view